Local Philadelphia Triathlon Bike Shops
There are numerous local Philly bike shops that carry triathlon bikes and provide fitting services. However, when shopping for my bike, I found that each local shop only carried one or two triathlon brands, and I had to visit multiple shops to check out different models that I was interested in. To make things easier for your next shopping adventure, here is a compilation of local Philadelphia bike shops and the triathlon brands they carry.
Fit shop run by Isaac Denham, the former head fitter at Highroad Bikes in Wayne, PA. Offering custom fitting, full service and premium bikes. Carries BMC, Cannondale, 3T, and Feska. Also has an array of fit tools such as a Retul bike, electronic saddle pressure mapping, and custom orthotics.
Contact: (603) 738-8872. 168 East Lancaster Ave. - lower level, Wayne, PA 19087
As featured in the Bicycle Coalition Blog, "Glenn Krotick began selling branded Breakaway socks from the back of his Ford Probe over a decade ago, but he knew the cycling community needed more. With a background as a spin class instructor, Krotick brought the practice to Pennsylvania with Breakaway Bikes and Fitness at 1923 Chestnut Street.
Breakaway soon became a pioneer of power based training in the late 90s, and RPM indoor cycling sessions have since become a staple for the city's biking community.
Breakaway offers more than the average bike shop, with their second floor training center where they provide RPM cycling sessions, performance training, and bio-metric testing. The shop has coaching services for any cyclist, whether a seasoned pro or new rider."
Breakaway carries Cervelo (P Series), Felt (B and IA Series), Fuji (Norcom Straight), Kestrel (5000 Series), and Trek (Speed Concept) triathlon bikes. They offer a fitting process combining industry standards like Fit Kit, LeMond Fitting Systems, and Retul (3D motion capture) with their own proprietary methods to determine a rider's sweet spot on the bike.
Contact: 1923 Chestnut Street, Philadelphia, PA 19103, (215) 568-6002
At Cadence, beginning bicycle enthusiasts and triathletes of all abilities feel instantly at home and naturally a part of an environment designed to cater to their every need. From retail product, to coaching, physiological testing, and mechanical services, Cadence aims to set a new standard, a new direction, for quality and unprecedented customer service for Philadelphia triathletes and cyclists.
Cadence carries Specialized (Shiv), Giant (Trinity), and Liv (Avow). Led by certified fitter and owner, Brady Gibney, Cadence has averaged over 200 performance level fits each year since 2010. Cadence offers Retul and BG Certified bike fitting.
Contact: 5000 Ridge Ave. Philadelphia, PA 19128, (215) 508-4300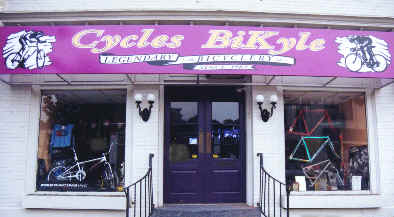 "For more than 35 years Cycles BiKyle has served the needs of serious bicycle riders - those who ride for the pleasure of it, those who appreciate the precision, smoothness and efficiency of true high performance bikes, those who have outgrown or seen beyond the limitations of mass production bicycles. For tourists, racers, and fitness cyclists, Cycles BiKyle is synonymous with knowledge, equipment, and professional care."
Cycles BiKyle carries Look, Felt, Quintana Roo, and Pinarello triathlon bikes, and offers fitting services.
Contact: 1046 W. Lancaster Ave, Bryn Mawr, Pa 19010, (610) 525-8442
Cycling and multi-sport shop featuring world-renowned TTBikeFit aero & road bike fit studio utilizing master fitter Todd Kenyon's proprietary methodology employing video capture and computer motion analysis. Also offering the finest in sales and service.
Triathlon and road bike fitting utilizing the patented TTBikeFit fully automated remote controlled Vertex Fit Cycle, custom bike building, component and equipment selection and aero optimization, the finest in sales carrying Argon 18, Ventum, PremiereBike, Louis Garneau, Kestrel and Fuji bicycles, ISM and Cobb saddles, the best in power meters, wheels, and other top components and accessories. Also providing installation and pre-race mechanical service.
The owner, Marc Galietta is an engineer by trade and meticulous fitter, having raced in Ironman triathlons since the early 1990s. The Vertex Fit Cycle is incredible to behold, allowing the rider to remain stationary while contact points move around her/him. The Vertex is fully automated via digital stepper motors and easily changes fit parameters under high rider power output. During the fit process, the Vertex allows Marc to sit at his computer and make adjustments on the fly, to the mm, while he observes you riding. Push a button and the front bars raise up or down; reach moves forward and back; saddle raises up or down; bottom bracket swings to adjust seat angle. Very trick!
Contact:
252 W. Ashland Street, Doylestown, Pennsylvania, getfit@theenergylab.net
Guy's Bicycles has been proudly serving Southeastern PA and Southern NJ since 1971.
Guy's carries Cannondale (Slice), Felt (B and IA Series), and Trek (Speed Concept) triathlon bikes, and offers fitting services.
Contact: 326 East Street Road, Feasterville, PA 19053, (215) 355-1166
Keswick Cycle first opened it's doors in 1933 in Glenside, PA, making it the area's oldest running bike shop. Today, with two locations, Keswick Cycle stands as a premier bike shop, with a large selection of bicycles, parts and accessories.
Keswick carries Cannondale (Slice), Cervelo (P Series), Trek (Speed Concept), and Specialized (Shiv) tri bikes. It stocks Zipp and ENVE wheels and has demo wheels available. It is also a TriBike Transport partner.
The co-owner, Brian Hackford, is a well-respected bike fitter. Keswick also has four Specialized Body Geometry fit specialists on staff, and it is a Shimano S-Tec certified shop.
The Glenside store is very friendly and has great neighborhood roads to test ride your bikes.
Contact:
408 N. Easton Road
Glenside, PA
(215) 885-7433
4040 Locust Street
Philadelphia, PA
(215) 387-7433
In Spring 2017, Trek acquired numerous local Bike Line stores in the Pennsylvania region -- further illustrating the recent trend of manufacturers seeking ways to market directly to consumers (see Advanced Sports International's, parent company of Fuji and Kestrel, acquisition of Performance Bicycles). The Trek factory store located in Wayne, PA was formerly a Bike Line shop, and before that, High Road Cycles, and before that, a Bike Line -- confusing, yes.
They are outfitted with a state-of-the-art Trek Precision Fit bike fitting system. Their prior Trek-certified fitter is no longer there, and I am not sure who currently does the fitting.
Contact: 165 W. Lancaster Avenue, Wayne PA, (610) 687-1110