Local Philadelphia Triathlon Clubs
The NE Philly Triathlon Team is a NE Philadelphia-based triathlon team dedicated to promoting the sport while raising money for charitable causes. They are a fun, laid back group that is very beginner friendly, but all skill levels are welcome. The NE Philly team trains all over the Philadelphia, Bucks, Montgomery, and South Jersey area.
There are no dues or fees for the team. They have an active Facebook group page, where you can learn more.
Philadelphia Triathlon Club
The Philadelphia Triathlon Club, or "PTC," is one of the largest tri clubs in the region. PTC's Facebook group has over a thousand members, who are spread between Center City Philadelphia and the surrounding Pennsylvania and New Jersey suburbs.
"The Philadelphia Triathlon Club aims to provide a community where a multisport athlete in the Philadelphia metropolitan area can achieve individual training and performance goals in a fun, supportive environment," and states the following objectives:
-To promote camaraderie among club members and other triathletes/duathletes.
-To provide education and clinics to club members about the sport of triathlon.
-To provide organized group rides, runs and swim workouts.
-To provide discounts on equipment and products through our sponsorship network.
-To provide triathlon racing uniforms at a "significant" discount to retail for all club members.
-To facilitate special programs for female members.
-To give back to our community through volunteer work and supporting those less fortunate.
-To provide a quarterly newsletter.
-To provide a social outlet for club members.
-To have FUN! While multisport athletes are serious about their sport we all need to remember to HAVE FUN!"
PTC is a very open and friendly group, and welcomes beginner to advanced athletes. It does not have regularly scheduled rides or runs. Rather, events are coordinated ad hoc by members through its Facebook Group page. Members often ride on the Schuylkill River Trail, starting at either the Betzwood or Conshocken trailheads. The group also schedules quarterly socials at local bars, alternating between the Philadelphia suburbs and downtown.
Membership is $55/year, and you can join using this link. PTC's Facebook group page is very active, and you can quickly obtain answers to any questions there.
The Schuylkill Tri Club is affiliated with French Creek Racing, and primarily comprised of members who regularly attend FCR's masters pool swims. It is a diverse and laid back club, and its members come from all backgrounds and abilities. Learn more at the club's Facebook page.
Turks Head Racing ("THR") is a team of multisport athletes centered in West Chester, Pennsylvania. West Chester, originally known as Turks Head, and the surrounding towns in Southern Pennsylvania have a rich history in endurance sports.
Although Turks Head Racing has members of all ability levels, it is known for its competitive athletes, who often podium in their respective age groups at local races.
THR holds weekly track workouts: Tuesdays 6:30pm (6:15 warmup) at Westtown School Track; Thursdays at 6:30pm West Chester YMCA (run with West Chester Running Club).
Membership is $40/year, and you can join using this link. THR has an active Facebook group, and you can quickly obtain answers to any questions there.
T3 Philly Triathlon is a multisport club based in Philadelphia. T3 members have a wide range of abilities and experience, from newbies to veteran swimmers, cyclists, runners, duathletes, and triathletes at every distance.
T3 is a diverse and friendly group for all levels. Its events appear to be more geared toward Center City and South Jersey residents than some other clubs.
T3 holds weekly Tuesday track workouts at Temple University at 6:30 PM, and weekly Saturday runs at Lloyd Hall at 1:00 PM.
Membership is $40/year, and you can join here. T3 has as an active Facebook group, and you can quickly obtain answers to any questions there.
WAVES (Women.Athletes.Endurance.Sports) are women athletes of all abilities, any age, with any race goal.
"Training for and competing in endurance sports is a way to keep us fit, active, healthy and competitive and through this, we are all connected. We are a supportive community as we share our own goals, our successes and our struggles and offer support and encouragement to women athletes everywhere.
We compete and train in the tri-state area and beyond. Some of our members have run and trained in Ireland, UK, Morocco, Mexico, Caribbean, all over the US in races such Ironman Cozumel, Ironman Lake Placid, 1/2 Ironman 70.3 Atlantic City, Marathon Des Sables (ultra in the desert). You can also find us in local races run by DQ Events, French Creek, BMRC, AARC, DelMoSports, and CGI Racing.

Not all of us are triathletes. Some of us are single sport runners, ultra runners, swimmers, duathletes, multi-stage athletes, and cyclists. We also like volunteering at the races where we support race directors in their quest to put on a great race as well as support our fellow athletes."

Learn more at the club's Facebook page.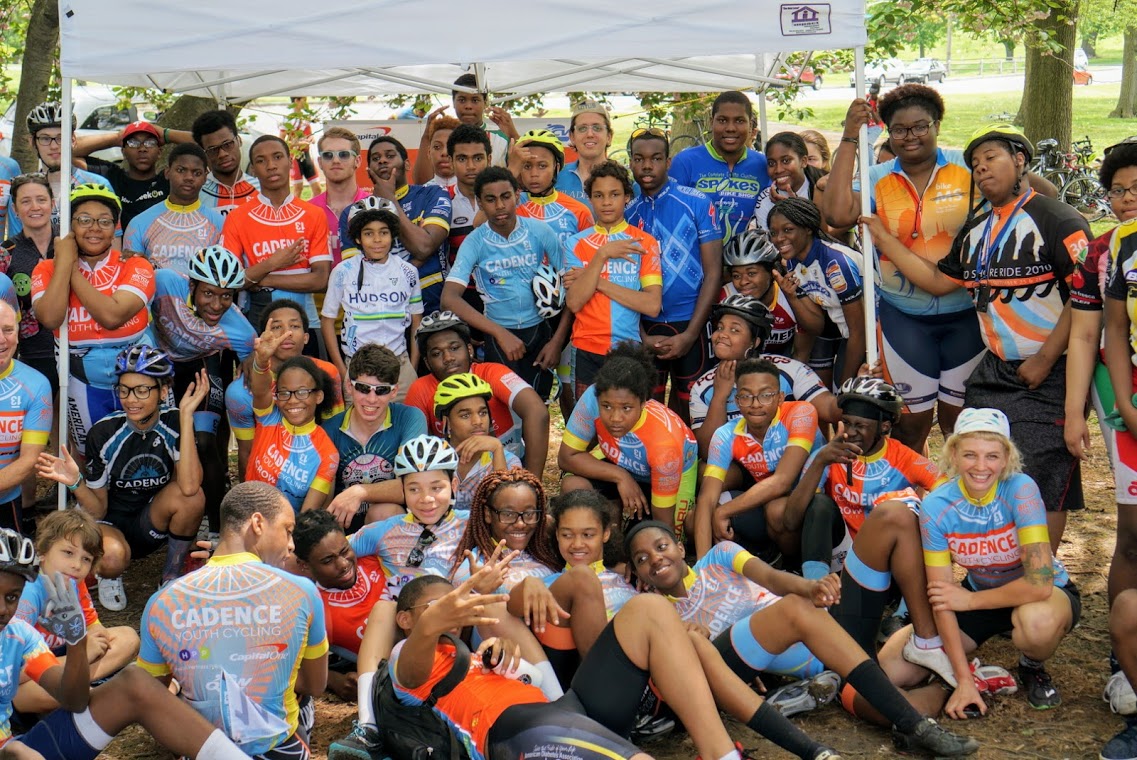 Bicycle Coalition Youth Cycling
While the Bicycle Coalition of Greater Philadelphia's Youth Cycling program ("BCYC") is not technically a club, I'm including them here as an unabashed plug for a non-profit charity (funded by donations and corporate sponsors) that is near and dear to my heart.
BCYC aims to foster healthy habits, independence and leadership in Philadelphia high school students through the sport of competitive cycling. BCYC also increases students' physical fitness and well-being through cycling practices and nutrition education.
In 2017, BCYC ran 7 teams in Philadelphia that impacted 103 student athletes. Despite its focus on cycling, BCYC is not just about riding and racing. Each cycling practice incorporates teaching life skills, such as teamwork, perseverance, and goal setting. Further, BCYC students that endeavor leadership skills receive college workshops and career preparation.
BCYC was founded in 2007 by Ryan Oelkers and Jay Snider. The duo first envisioned the program as a junior cycling team organized out of Jay's Cadence Cycling & Multisport Center, in Manayunk, as a means to introduce more youth to the sport of cycling. In 2013, the program became one of the Bicycle Coalition of Greater Philadelphia's educational programs. Since that time, BCYC has been a program solely run by the Coalition, and it is no longer affiliated with the shop in Manayunk (although we're all good friends!).
You can read more about the origins of this unique and inspiring program in this Bicycle Magazine article. You can also e-mail me at phillyendurance @ gmail.com to learn more about how you can support BCYC.