Youth Triathlons and Races
Learn about youth triathlons and races.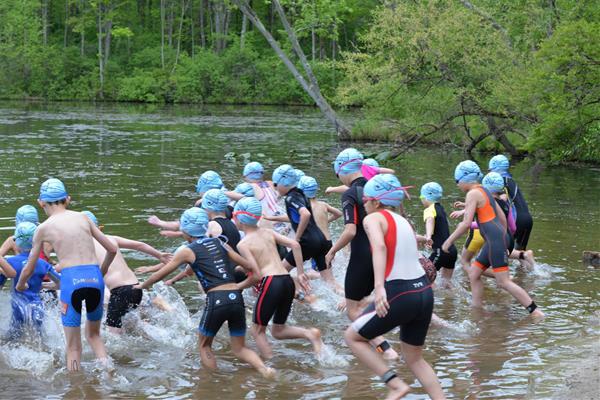 Race Date: May 19, 2018. The ToughKids Philly Youth Triathlon is run in conjunction with the French Creek Triathlon and as part of the ToughKids Race Series.
The ToughKids Philly Triathlon is open to all boys and girls between the ages of 4 and 14 as of 12/31/18. The top 3 boys and girls in each specific age will qualify for the ToughKids Championship at Harriman State Park, NY.

This is a USAT Sanctioned event - all USAT rules shall apply. Though many races don't allow Race Day Registration, we always have, and will continue to do so! Available from 10AM- 11:30AM on Saturday Morning, Race Day Registration will be $55 for each age group.

REGISTRATION AND SCHEDULE:
• SAT 10:30AM - 11:30AM Kid's Packet pickup.
• SAT 12PM - Kid's race start ages 4-6.
• SAT ~12:40PM (20 minutes after ages 4-6 finish), start ages 7-10.
• SAT ~1:20PM (20 minutes after ages 7-10 finish), start ages 11-14.
• SAT ~2:15PM ToughKids Awards Ceremony.
Register here.
KidzTri3 is a Premier Youth Multisport Organization whose goal is to inspire and motivate youth, through the sport of Triathlon, to develop self-confidence, physical fitness and to lead an active, positive and healthy lifestyle. Founded on one basic principle — to provide kids of all athletic abilities an opportunity to compete in a sport and feel like a superhero!

Boys and girls compete in age appropriate distances as they swim~bike~run, with an emphasis on fitness and fun. All kids are encouraged to participate, regardless of their athletic ability. We create a supportive, encouraging environment which allows our young athletes to strive to be their very best, challenge their own perceived physical limits as well as learn how to compete as a good sportsman.

Currently, our geographical reach is the Tri-State area (NJ, PA, DE); however, we have athletes and their families travel from all over the country to participate in KidzTri3 events, and we plan to expand our programs to other parts of the country through controlled, organic growth.
There are many events scheduled from May-September 2018. See the schedule here.